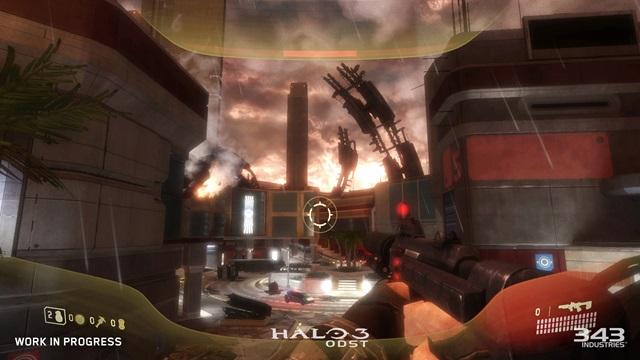 343 Industries posted a new update on the state of Halo: The Master Chief Collection, as well as an image from the remastered version of Halo 3: ODST, which you can see above.
343 Industries Studio Head Dan Ayoub said that the developer's test and community teams have also been running daily playtests on a new remastered map from Halo 2, Relic, and are hammering out the details as much as possible . You can see new images from this remastered map in the gallery above.
Ayoub added that that 343 Industries will provide more details on launch dates for Relic and the Halo 3: ODST campaign soon.
As for the game's persistent online issues, Ayoub said that the most recent update has normalized and improved matchmaking for the majority of fans, and that while we won't see the next content update until April, 343 will be doing some things on the server side to keep improving the experience between updates.
"We have an ongoing commitment to our fans to make this experience the best it can be," Ayoub said. "We want fans playing and enjoying this collection for years, and you'll continue to see improvements to the experience in the coming months to support that goal."
In December 2014, 343 announced that early adopters of Halo: The Master Chief Collection will get an updated version of Halo 3: ODST's campaign and a reimagined version of the Halo 2 multiplayer map Relic for free as an apology for the game's online issues.